Are You Getting the Most Out of Your Fundraising Efforts?
So how are you really doing with your fundraising?  What's your ROI so far this year? Do You Know? Have you analyzed your fundraising performance? And do you know how to calculate your ROI? Do you include all the indirect costs associated with your fundraising efforts? It can be confusing but you must get a grasp of what is working for your organization and what you're spending so you'll be able to answer the question when the ED  or Board asks "How are we doing?"
A quick review  of the national averages for non-profits fundraising costs and returns proves to be eye-opening to say the least.
First, look at Acquisitions. In 2015  it took $1.15 in order to raise $1.00 with direct mail acquisition efforts. Wow, certainly not a get rich quick scheme but always considered very necessary  to look for new donors. Many non-profits use their annual event  or other fundraising events to acquire new donors but direct mail is still King.
Direct Mail is still a solid performer with a budget cost of 20% and a return of 80%. Content and storytelling can really help make a huge return possible so you want to work hard on content to touch the donor heart with the beautiful impact of your work.
Counting on your Events to kick in big dollars?  Norman Olshankey,  President of NFP consulting, says "For most organizations, events (with a few notable exceptions) should not be undertaken if they are expected to provide a good financial return on the organization's investment of time and  resources to produce an event."national averages show events cost 50% of your budget and return 50%. Rather a wash but probably less than that when yo figure in every indirect cost of a large event.
Do you ever wonder why Major Giving is such a pronounced area of training and instruction in the Development field? Consider these facts from the AAFRC Trust for Philanthropy: 78.3% of all charitable contributions are made by individuals and the top 10% of those donors give a  whopping 80 to 90%. That 10% are your Major Donors and are so very important to the future of your mission. The national average major gift fundraising cost is 5-10% of your budget ! Every dime you spend on Major Gifts nets $1.00. This makes it very easy to see why this is where you should concentrate your efforts and do it now!
To know and understand your  "Return on Investment" will make you a great Development Director.  Here's  a link to an exceptional blog I saved from Hubspot 2 years ago  that I think you will really appreciate. It is save-worthy for sure.
Here's to you getting the most from your fundraising efforts and click below to get a quick check list to help!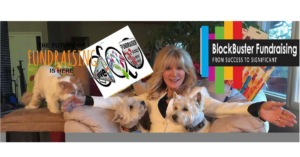 Joy Olson