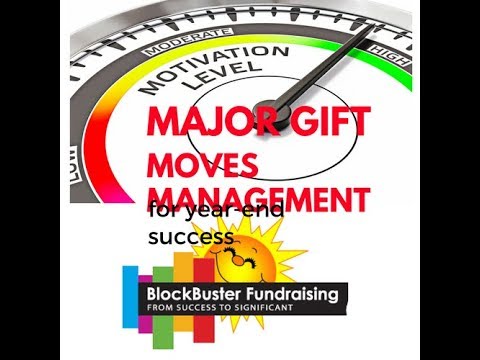 Magic 'Moves Management" Steps for Major Gift Success

Moves Management Skills
Perfecting moves management is essential to securing major gifts. David Dunlap is a moves management pioneer. He says the moves concept focuses major gift fundraising on changing people's attitudes so they want to give.
What are moves?
A cultivation opportunity. Any great way to get to know your prospect better and let them get to know your organization, mission, and programs better. A move must be important enough and passionate enough that the prospect regards this as wonderful giving opportunity to your organization. You must know something about the prospect before this visit. Cultivation must be according to a plan and mission directed. You must know exactly what you want to accomplish.
Examples of cultivation opportunities:
• Behind the scenes tour or your facility
• An invitation to a small special event
• An insider's newsletter
• An invitation to lunch or dinner with Director of Development, Executive Director, or a member of your Board of Directors
• An invitation to give feedback on latest event or case statement
Cultivation Visits
In order to have a successful cultivation visit, you must have a plan and a clear goal. The visit should be focused and goal oriented.
Here are five things to consider while preparing for your visit:
1. What is the best possible outcome and the minimum acceptable outcome?
2. Review the key points you are going to cover.
3. List a small number of benefits that you believe will appeal to the prospect.
4. Determine what you will ask your donor to do, agree to, or react to.
5. List anticipated questions and your responses. Remember questions are good, you just want to make sure you have a great response.
Here are eight steps to get started:
1. Select 10 – 25 of your best prospects.
2. Gather research on each and every one of them.
3. Identify volunteer board members and staff for each prospect.
4. Consult board members and staff that you think know each donor the best to find out as much as you can about the donor and their motivation.
5. Develop a strategy for each donor with definite gift amounts and opportunities.
6. Plan your next moves based on your strategy.
7. Implement those moves!
8. Review your moves
It is very important to be able to track your moves and your progress. Your database should include a pre-programed moves management system with reporting. If you don't have access to this, use a calendar software. Just enter the moves you want to make and set a reminder for each.