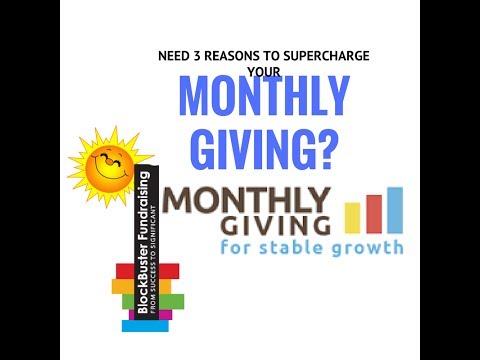 MONTHLY GIVING TECHNIQUES THAT ARE WORKING IN 2017
Develop a great monthly giving program
A monthly giving program can really help your organization. We know that on average 40% of giving from individuals occurs in December. Wouldn't it be great to spread some of those gifts out over the whole year? Transitioning some of your donors to monthly gifts is the perfect way to do that.
Here are some ideas for how to convince your donors to give monthly.
What to ask for
Setting your monthly giving amount at the appropriate amount is an essential first step. Start with your average online gift amount then take 15-20% of that for your baseline. If your average online gift is $100, set a baseline recurring gift of $15/month and up from there. This is a great starting point for new donors, but for current donors who may be giving more you will want to edit your ask to be specific to their giving level.
Learn from your current monthly donors
If you have a group of monthly donors they can give you great insight into what works and what doesn't. Call them and ask them for their opinion and thank them for being monthly donors. Find out why they give monthly. What do they have in common? You can use these ideas to reach out to other monthly donors.
Seven groups to target
Here are seven groups of people who are likely to be attracted to the idea of a monthly gift.
• One time donors who give less than $200 each year
• Donors who give more than three times a year
• Young supporters
• Volunteers
• Donors who have given in the past but not last year
• Event attendees
• Former board members
Questions to ask your team
Before you start your monthly giving program, ask your team these questions:
• What do we want to accomplish through monthly giving?
• What does that mean to our programs and our mission?
• What is the result of achieving our goal?
Answering this question will help your donors understand your mission in your monthly giving program and better talk to your donors about why this is important.