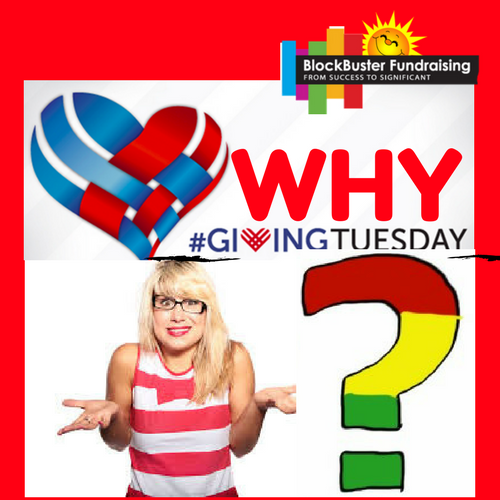 Why #GivingTuesday
Why #GivingTuesday?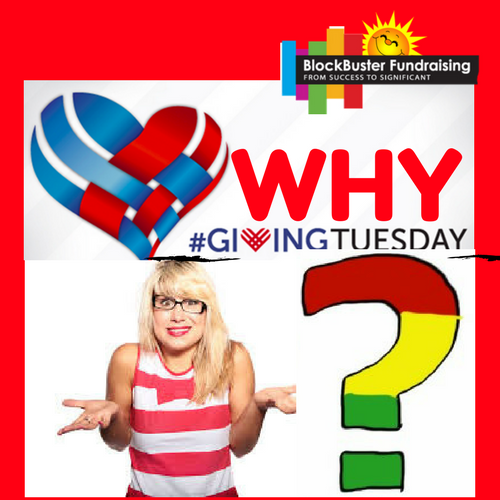 #GivingTuesday, a national day of giving, makes the perfect Kick-Off for Year-End Fundraising! Jump start your year-end appeals with this major social media opportunity! #GivingTuesday is an exceptional occasion to begin your last and final month of fundraising.
#GivingTuesday empowers our donors and supporters to raise money on our behalf! Getting your donors involved is of strategic importance!
How do you get them involved? Which techniques do you use?
Is #GivingTuesday a Crowdfunder or Peer-to-Peer Fundraising?
Should you do a crowdfunding campaign or a peer-to-peer campaign?
According to Classy.org CEO & co-founder, Scot Chisholm, crowdfunding gained mainstream appeal for nonprofits after 2009 but it's been around a long time. In fact, in 1884, Joseph Pulitzer raised over a hundred thousand dollars in six months for his newspaper, The New York World.
So, is crowdfunding the same fundraising vehicle as peer-to-peer fundraising? You hear the terms interchanged constantly.
Actually peer-to-peer fundraising is a specific type of crowdfunding. Now you know!
Crowdfunding sites like Kickstarter are what you call single-tier because the user sets up a single campaign page and then reaches out to friends and family for contributions.
Peer-to-peer fundraising is multi-tier because after the user or the organization sets up a campaign page other individuals can set up their own personal fundraising pages underneath it to share with their friends and family. Thereby getting the name peer-to-peer fundraising.
Peer-to-peer fundraising can have hundreds or even thousands of people fundraising simultaneously for a single initiative. That's why peer-to-peer campaigns are ideal for #GivingTuesday.
Why peer-to-peer fundraising is ideal for non-profits

 Peer-to-peer fundraising is effective.
Peer-to-peer fundraising is especially popular with your younger supporters.
Peer-to-peer gives your donors the opportunity to tell their stories in their own words. They get to individualize the cause and explain why it personally matters to them.
Personal fundraising pages provide a great vehicle for expression.
Peer-to-peer fundraising provides avenues for social reinforcement. Your donors, especially your younger donors, love the ability to share their passion for a cause and they like to share it with their friends and their family. They love it even more when these actions are reinforced publicly.
This type of fundraising also gives individual fundraisers the ability to see how their goals fit into the fundraising goal of the organization so it really encourages collaboration. This sense of community is really the reason that crowdfunding and peer-to-peer fundraising have been such a success.
Many of the peer-to-peer platforms give you the ability to communicate directly with individual donors throughout the campaign and show progress in real time. The real time updates and responses give your donors the sense that their effort is having an immediate impact and motivates your supporters to achieve their goals or possibly even raise them.
Where do you start on your peer-to-peer campaign?
There are many peer-to-peer fundraising tools to choose from. This article about the 15 best peer-to-peer fundraising tools is a resource that will help you pick a platform that meets your needs.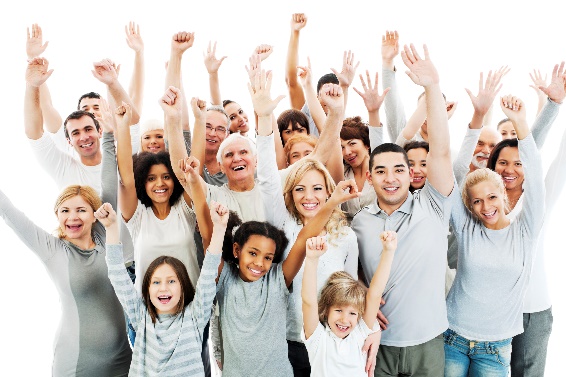 Tier 1: Select your platform and design your campaign page with your story, mission, photos, and possibly a video. Be creative and examine the many examples you can find online to give you inspiration!
Tier 2: Select a group of volunteers, board members, and staff that enjoy social media, love your mission and that you can count on to be your solid team. They are your team fundraising leaders, each having a page that reaches out to their family and peers with your story, your #GivingTuesday project.
All contributions will roll to the main campaign page and it is transparent that all donations are secure, going to your non-profit, and tax deductible due to your 501(c)3 status. The total progress of your campaign will be shown on the main campaign page as well.
#GivingTuesday Empowers Your Donors
The takeaway is that peer-to-peer fundraising is a type of crowdfunding that allows you to empower your donors and your supporters to raise money on your behalf.
Historically peer-to-peer has been the primary method of crowdfunding adopted by nonprofits. And why not? Nonprofit organizations have existing supporters and donors who are passionate about their cause and really are willing to fundraise.
#GivingTuesday is certainly a perfect time to allow your donors and supporters to express their personal connection to your cause. Go get em! Here are 2016 tips, a great to-do checklist for #GivingTuesday video from BlockbusterFundraising!