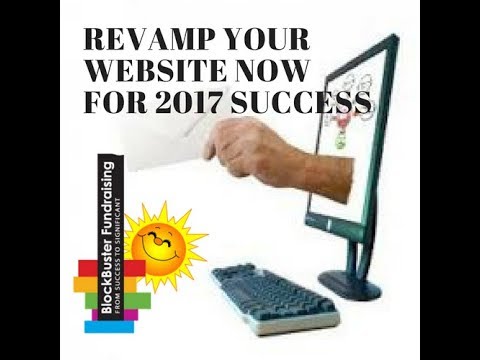 WONDROUS WEBSITE CHECKLIST
NonProfit Website Checkup For Year-End Success
Website Check Up
October is the perfect time to get your website ready for year-end success! 270 million Americans use the internet daily on any number of devices. For great advice on how to improve your website, watch now.
Be Mobile Friendly
Did you know that more than half of your internet traffic is coming from mobile devices but that only a third of websites are mobile responsive? Make sure your website looks good on your mobile. It must be neat, simple, organized, and have great content. And it must have a prominent donate now button. Do a mobile friendly test like the one available from Google, to make sure it works perfectly.
Keep Them On Your Site!
Don't surprise your visitor with cumbersome external sites. You want to keep potential donors on your website while they are entering their donation information.
Get First Time Visitors Involved
Create a way first-time visitors can communicate with you. Have a newsletter sign up or an opt-in page for first time visitors so they stay connected. This will make them more likely to come back and make a donation.
Are They Ready?
Visitors who click the "donate now" button on nonprofit sites are usually ready to make a donation. First time donation page visitors are 44% more likely to give than previous visitors. So keep them there the first time they visit with an easy to use, easy to find Donate Button.
Create a Landing/Campaign Page
To retain and grow your supporters, engage and inform your website visitors about the progress of your campaigns and projects. Your supporters want real time updates to feel connected and to entice them to continue supporting our project. A great way to do this is by creating a campaign page that your donors can visit to keep up with your goals, progress, and successes.
Don't disregard BabyBoomers
Many of us think of baby boomers as non-internet users. But the fact is, our baby boomers are spending an average of 38 hours a month online. In fact, 70% of baby boomers have a Facebook account.
Donate Now Button!!!
This is the most important action item! Make sure you have a prominent donate now button. It should be way up on top, and easy to use. If potential donors have to search for your donation page, they'll move on and make their donation elsewhere.