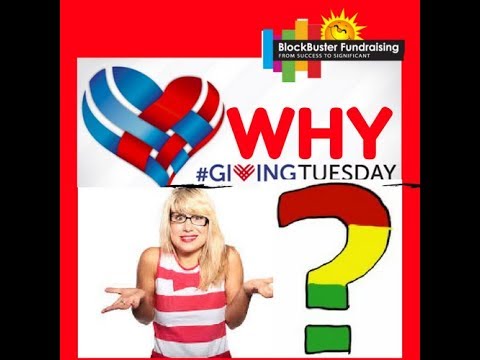 6 #GIVINGTUESDAY HACKS
October is the perfect time to review or begin or improve your 2017 #GivingTuesday campaign. Here are 6 #GivingTuesday Hacks just in time to jump-start great results.
#GivingTuesday Tips
What is #GivingTuesday? #GivingTuesday is a counterpoint to the consumerism of Black Friday and Cyber Monday. It started with just a few hundred nonprofits in 2012 and it has since blossomed into an international day of giving around the globe. In 2015, the total donations for the day were up to $116.4 million from $45.6 million a year before!
#GivingTuesday is the launch of your year-end giving season. It starts the energy and excitement to carry you through December 31st. Think of #GivingTuesday as an online kickoff.
1. #GivingTuesday Goals
Your giving Tuesday goals can be about more than just dollars raised. Here are some different goals to set:
• Number of donors
• Number of new donors
• Number of volunteers/hours (if you are including an activity)
• Number of recurring donors
• Percentage participation among key groups like staff, board, alumni, or clients
Set goals
It is imperative to have a clear goal that you, your team, and your supporters can rally around. If you had a #GivingTuesday campaign last year, you can use those results as a benchmark. Another great goal-setting tool is to use a giving pyramid. Map out what you will need to get to your goal. One or two donors at the top level with more donors at the lowest level.
2. This is a chance to tell fresh stories, attract new younger supporters, accelerate your social media presence or diversify your fundraising channels.
3. Make a plan
You need a concrete plan with goals and a calendar timeline. You won't know if you're on track without a detailed plan!
Inspire your donors to give
4. Use wonderful stories and an easy to use donation page with a prominent donate now button.
5. Show your gratitude
Have an instant thank you letter to send to your donors. Have a system in place to welcome new donors so they feel valued and appreciated right from the start.
6. Try a new idea
This is the perfect chance to try something new. Your #GivingTuesday goal will probably be a smaller one and you'll be attracting lots of new donors, so this is your best opportunity of the year to try new ideas.